Make that two world lead times in 2016 for Tori Bowie.
Already the holder of the women's 100m world lead (10.80 seconds), Tori topped another chart with a blazing fast 21.99-second 200m run at the Prefontaine Classic in Eugene, Ore.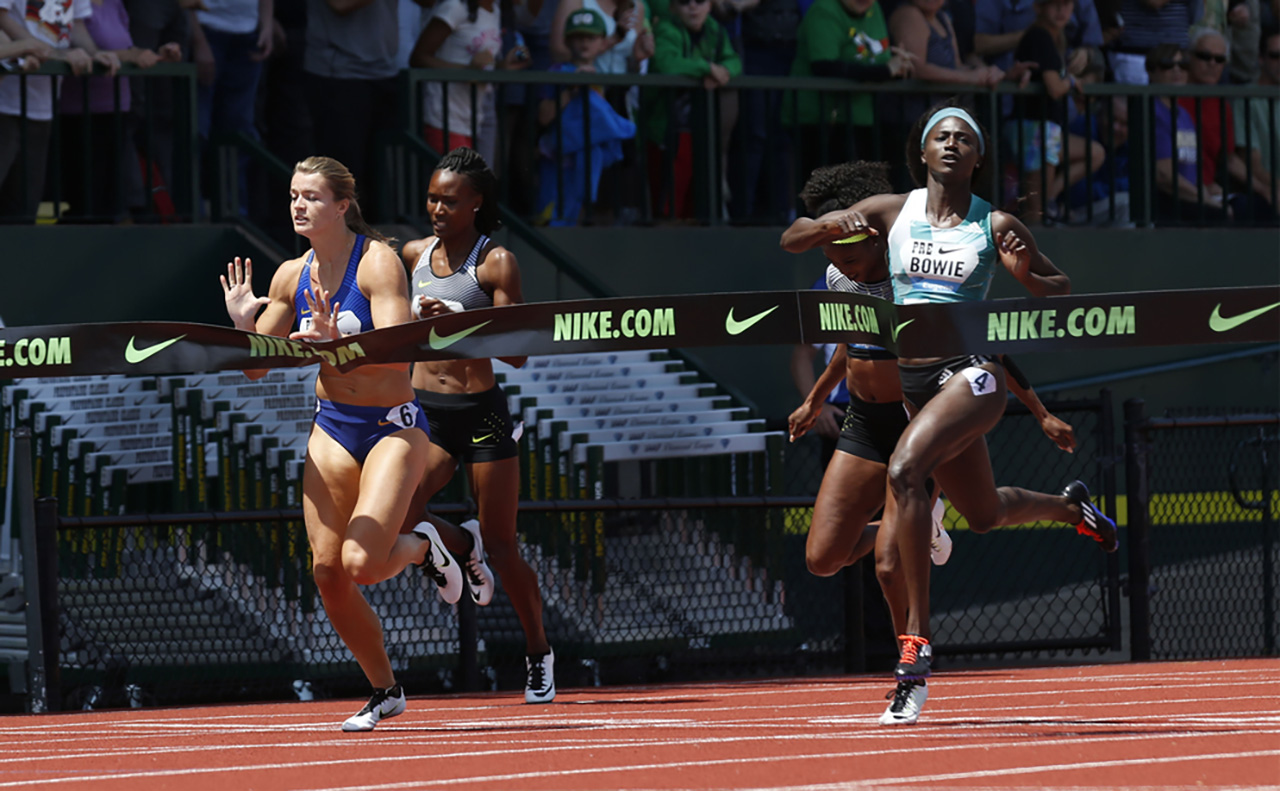 The Mississippi native cemented her status as a gold medal threat at the Summer Olympic Games in Rio de Janiero, Brazil later this summer, edging Daphne Schippers of the Netherlands and Elaine Thompson of Jamaica for the Eugene Diamond League 200m crown.
Tori got a strong start out of the fourth lane with Thompson and Schippers to her right. She was neck-and-neck with Thompson coming around the bend before turning it on down the straightaway. She used a powerful finish to pull away from Thompson, and then hold off Schippers to post a personal best, and the only women's 200m time under 22 seconds this year.
Both LaShawn Merritt and Will Claye turned in excellent second-place efforts in Eugene in the 400m and triple jump, respectively.
LaShawn came through with a strong 44.39 second run, placing him second to 2012 London Olympics gold medalist Kirani James. The Jamaican won at 44.22 seconds, which matches LaShawn's best time of the year, set at the Drake Relays in April. This marked another chapter in the James-Merritt rivalry that is sure to only heat up as the summer continues.
"It brings out the best in both of us," LaShawn said of his rivalry with James. "Sometimes it doesn't bring out the most technical races in us because we are such competitors, but it was good…Everytime we line up, we know it's not going to be an easy run. It's going to be a real battle and that is exciting. I like lining up against the top guys and trying to execute a good race, and when that doesn't happen, you just have to look forward to the next one and doing a better job there. It's easier to give your best when you face the best."
Will's jump of 17.56 meters put him behind only his friend and reigning Olympic and World Champion Christian Taylor. That mark is Will's best of 2016, and it's the second best distance in the world this season, behind the 17.76 posted by Taylor.
The American crowd was tremendous in Track Town. Will met with USATF.TV after the meet to talk about the 13,000-plus in the stands at Hayward Field and the reaction to his terrific jump.
"The fans and the crowd always responded to when we wanted to start a clap. And big jumps, you know when it's a big jump when the crowd is just screaming before you even know the distance," Will said. "We always appreciate the crowd supporting us."
The Pre Classic serves as not only a precursor to the U.S. Olympic Trials, which are now less than a month away at this same venue in Eugene, but also as a taste of what's to come in Rio. As Will explains, all the work done now is done with those two events in mind.
"It's always a plan," Will explained. "Trials and Olympics are the biggest things this year. This is like our second home. We've been competing here every year since we were 16 or 17. This is like home to us. We know what to expect and that it's going to bring the best out of us. We just work on what we have to work on leading up to Trials, come out here and put on another show, make the team and get ready for Rio."
NEXT UP
LaShawn, Octavious Freeman and Doreen Amata are in action this weekend at the Racers Grand Prix in Kingston, Jamaica. LaShawn will go toe-to-toe in the 300m with the reigning 400m world champion, South African sprinter Wayde van Niekerk.
RELATED LINKS